15 Chuck Norris jokes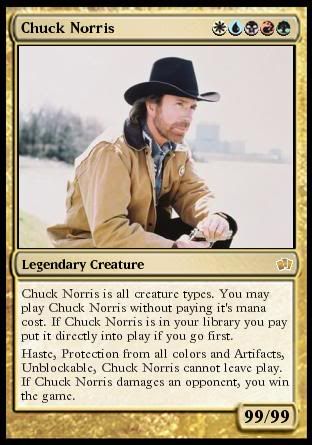 Leading hand sanitizers claim they can kill 99.9 percent of germs. Chuck Norris can kill 100 percent of whatever he wants.

Chuck Norris' tears cure cancer. Too bad he has never cried.

Chuck Norris counted to infinity - twice.

Chuck Norris was originally cast as the main character in 24, but was replaced by the producers when he managed to kill every terrorist and save the day in 12 minutes and 37 seconds.

Chuck Norris can speak braille.

Chuck Norris does not sleep. He waits.

Chuck Norris owns the greatest Poker Face of all-time. It helped him win the 1983 World Series of Poker despite him holding just a Joker, a Get out of Jail Free Monopoly card, a 2 of clubs, 7 of spades and a green #4 card from the game Uno.

When the Boogeyman goes to sleep every night he checks his closet for Chuck Norris.

Once a cobra bit Chuck Norris' leg. After five days of excruciating pain, the cobra died.

Chuck Norris does not hunt because the word hunting implies the possibility of failure. Chuck Norris goes killing.

Chuck Norris doesn't read books. He stares them down until he gets the information he wants.

Ghosts are actually caused by Chuck Norris killing people faster than Death can process them.
Chuck Norris can strangle you with a cordless phone.

Chuck Norris can create a rock so heavy that even he can't lift it. And then he lifts it anyways, just to show you who Chuck Norris is.

If you can see Chuck Norris, he can see you. If you can't see Chuck Norris you may be only seconds away from death.
(Image borrowed from the internet somewhere)